Auditorium Seating (100 Seat Minimum)
Quality Designs and Layouts to Choose From
At Preferred Seating, Your Satisfaction is Our Highest Goal!
Our main function as a market leader is to provide quality auditorium seating. In addition to offering seats of varying seat widths, back pitch, shape, and color, Preferred Seating can provide you with assistance on the design, layout, and installation of auditorium seats. This is a great way to purchase a complete chair design solution for your world class facility. Quality and Value Is Our Trademark.
We also offer expert repair and restoration of auditorium seats and other seating right at your site. Our craftsmen will travel to locales from coast-to-coast. Under those tattered cushions and loose armrests solidly constructed seats are often found. We can replace those cushions, update fabric, and strip and re-stain wood. Metal standards can also be stripped down to bare metal, then polyester powder coated. Your old auditorium seating will look like new.
Related Products
For Those Who Appreciate the Finest
Auditorium Seating Experts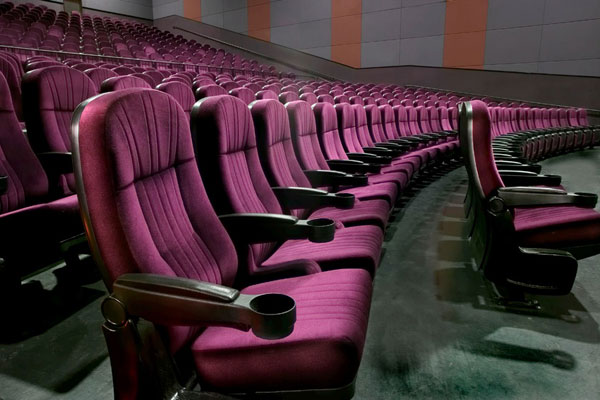 Preferred Seating prides itself in expert, custom installations of state-of-the-art auditorium seating across the U.S.A. We've designed and installed seating in every type of commercial and non-profit venue, so we'll have the ideas you'll need to help your project to be a success. Count on us for durable auditorium seating, economical seating, used seating, and renovated seating. Over the years our engineers have introduced seating innovations that you can benefit from.
Multipurpose Auditorium Chairs
Many venues can benefit from our innovative portable auditorium seating that combines ergonomic comfort with versatility. Move these multi-purpose seats to just where you need them to modify your facility from event to event. Increase auditorium capacity when the nature of the performance or event allows, thereby increasing revenue. Churches and schools with limited space can use portable auditorium seating to adapt their available space as needed.
We've been innovators in introducing ergonomic comfort and extreme durability to moveable seating. Schools and churches save by using this type of seating in various creative ways to limit the total seating needed. Performance venues benefit by rearranging auditorium chairs depending upon the event. Certain performances will allow for increased seating, which our portable, high-grade seating can address. In turn, revenue can be increased.
Used Auditorium Seats
Used auditorium seating that are suitable for your project are often available from Preferred Seating. The supply is enhanced by the current activity in movie theater renovations across the country. As an active supplier of auditorium seats we often come across great used seating opportunities.
If the auditorium chairs are in need of any type of repair or restoration, our experts can strip wood and metal, and then re-finish and powder coat. Fabric repair or complete re-upholstering is available. Select from fabrics that are appropriate to the period, or able to stand up to rigorous use by movie-goers.
Thanks in part to the transformation of the movie industry, numerous cinemas are being either closed or renovated. This has released more auditorium chairs, oftentimes only slightly used, into the market. Therefore, we at Preferred can offer savings of 30-50 percent if used auditorium seats will work in your project.
Auditorium Seating For Any Venue
Preferred seating can address all commercial seating requirements, from those involving ultramodern new facilities to century old structures. We can do everything, from collaborating with you to create just the look and feel that you require, to laying out and installing the finished auditorium seating. Look also to our innovations in multi-purpose seating and in the retro fit of old bleachers with ergonomic, contoured stadium searing. Preferred Seating designs and manufactures the most attractive and functional auditorium seating on the market today…and at competitive pricing. Now we have it all in the seating industry: ergonomic design for comfort and state of the art styling; strength and durability warranted to out perform other seating; traditional and contemporary profiles with a variety of style and color selections.
Cast Iron Decorative End Panels
How often does one find anything made of cast iron nowadays? One place you'll appropriately find this tried-and-true metal is in the standards of our auditorium chairs. Over the years patrons of all shapes and sizes will visit your venue. The heavy, super-durable cast iron seat standard can stand up to any kind of use. Or, we can offer 14 gauge steel standards that are all the more competitive due to robotic mig welding. The consistent and strong welds will also stand the test of time. Indoor auditorium seats can include upholstered inserts of many styles and fabric grades. We at Preferred pride ourselves in full customization of your seating, to help it to become an appropriate part of the look and feel of your facility's architecture.
Auditorium Seating Restoration
If your project is a retro movie house restoration or an authentic renovation of a turn-of-the-century opera house, used theatre chairs, either yours or ours, will be appropriate. Our craftsmen can repair and renovate any type of auditorium seating, simple or ornate. Metal is stripped down and powder coated. Wood is completely stripped and re-finished. Upholstery is repaired or completely replaced as you prefer.
Whether the need is for a brand new facility or chairs to renovate an existing one, Preferred Seating offers stylish, low-maintenance options. Our thirty years of experience can be put to work for you! We're aware of the latest trends and developments in such seats and chairs and seek out manufacturers to meet your needs. The right decisions now can enhance revenue at ticketed venues and offer recurring savings in maintenance for years to come.
Those renovating retro movie theaters, opera houses, or other historic venues may want to consider the pre-owned auditorium seating that we offer. Find the used chairs that fit the look of your facility and save as much as 40 percent. Economical, used seating is often available due to cinema closings and renovations across the country. In many instances these chairs are high quality and without any discernible wear. They can be used in many different applications.
A modern trend for a seating manufacturer involves the use of removable seating that now offers many of the features of fixed seating. Supplement your permanently mounted chairs with portable, furniture-like auditorium seats that can be adjusted from performance to performance. This approach increases seating capacity, contributing to better ticket revenue over time.
Please contact us today for more information about our U.S.A.-made lines of performing arts theatre seating. Learn about robotic mig welding, double-walled construction, and the use of high impact plastics. Discover the many ways that theater seating can be customized to meet your exacting requirements.