Elegant and Comfortable Church Seating
Preferred Seating - For the finest in church seating, furniture and chairs
Preferred Seating offers congregations comfort at an affordable price. From auditorium seating to pew combo individual modular seating and wood church chairs, Preferred Seating offers varied church seating solutions for worship seating. Our seats comfort the body while worship raises the spirit. Preferred Seating offers a wide variety of church furniture seating.
Please view complete line of auditorium seating.
Church Pews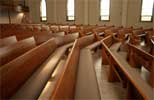 Church Seating

Pew Combo

Summit Chairs

Symphony Church Seating
Pews- Church Seating - 100% Made in the U.S.A.
The pew has been the traditional church seating furniture for centuries and still reflects the solemnity of the church service. Although hard-backed wooden pews have given way to cushioned, ergonomic designs, the solid, aesthetic look of a standard pew is still in demand.
Church Seating
Church furniture should be comfortable, quiet, and as dignified as the church setting itself. At Preferred Seating, we've been designing and installing quality theater, auditorium, and church seating for more than 20 years. When outfitting a place of worship, the choice in church furniture is important to the look and feel of the interior. Preferred Seating offers many styles of seating that is specifically designed to fit in with the church's function. Whether the style you are looking for is ornate or simple, there are modern church chairs designed for worship to fit your needs.
View our complete line of auditorium seating.
Combo Pew - Individual Seats Flip Up - 100% Made in the U.S.A.
We sell church chairs, church furniture and church seating Our Combo Pew combines the conventional sculpted look with defined individual seating.
Pew combos are traditional in style and look more like the customary pew, the staple of church seating for centuries, with defined spaces for each individual. The pew combo allows for increased seating capacity. The fold up compact seats raise to a 3/4 fold allowing more space for increased traffic flow through the aisles. Advanced foam materials make these church chairs comfortable, and covered fabric gives them the look of furniture.
Summit Chairs with Pew Ends
We have seating for congregations leaning toward a more modern look as well. For instance, our Ultima auditorium seat is ideal for larger churches wanting the most in modern ergonomic designs. To make Ultima seating fit in with more traditional churches, use one of our pew ends at the edge of each row to maintain a more stately furniture look.
Book, Card, Pencil Holders Available
Classic and or Concert Seat available, armless or flipup arms
Increase church seating capacity
No arms, greater flexibility
Seat flips up creating more aisle width for walkways
Options: Pew ends
Church seating comes in a many different designs and styles to accommodate each worship setting. Improvements in the construction and materials used in auditorium seating has provided more choices in church seating. Pews are no longer the only alternative.
The answer to all of your church seating furniture needs
Symphony seats add elegance to a worshipful setting. A fully upholstered and or wood back and under seat pan options are available. Whether the church furniture style you are looking for is ornate or simple, we have the modern seating and furniture designed for worship to fit your needs. With our expertise and ability to customize seating components let us provide you with solutions to all of your church seating and furniture needs. With the growth of "mega churches" comes the need for church seating with a true auditorium look and feel.
Features of our Church Chairs
The comfort of well-designed seats are essential to the enjoyment of services that often last several hours. With this in mind, we provide church chairs which are made to be durable and comfortable, utilizing the latest materials to enhance the patrons experience. Thanks to advances in the science of ergonomics, our seating contours to a person's body, distributing weight evenly. This eliminates pressure points. Our high-quality church chairs are designed with gravity assisted spring mechanisms that retract the seat soundlessly, so as not to disturb other church members. Church seating with arm rests that can be pulled up when not in use are available allowing for more sitting space.
Multipurpose Modular Seating Furniture
If your sanctuary needs to be a multipurpose facility than you should consider modular chairs. Modular church chairs are designed to be stacked and can be moved if needed. This type of seating gives you an economic alternative. Chairs can be ganged and fit side by side for greater stability. Upholstery gives a chair a church furniture look.
Check out our collection of stackable cushioned chairs which makes the rearrangement of seats easy while offering comfortable seating. Sturdier and more handsome than folding chairs, not to mention much quieter - our chair models are as practical as they are relaxing. We also have similarly styles benches that can seat entire families. These portable seats are ideal for multi-purpose rooms, off-location events, or any occasion requiring special seating.