Preferred's Church Seating Is Elegant and Comfortable
Preferred Seating - For the finest in church seating, furniture and chairs
Preferred Seating offers congregations comfort at an affordable price. From auditorium seating to pew combo individual modular seating and wood church chairs, Preferred Seating offers varied church seating solutions for worship seating. Our seats comfort the body while worship raises the spirit. Preferred Seating offers a wide variety of church furniture seating.
Please view complete line of auditorium seating.
Church Pews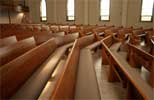 Church Seating

Pew Combo

Summit Chairs

Symphony Church Seating
Pews- Church Seating - 100% Made in the U.S.A.
The pew has been the traditional church seating furniture for centuries and still reflects the solemnity of the church service. Although hard-backed wooden pews have given way to cushioned, ergonomic designs, the solid, aesthetic look of a standard pew is still in demand.
Read More...
Read Less...