Prelude Plus Home Theater Seating
Sizes: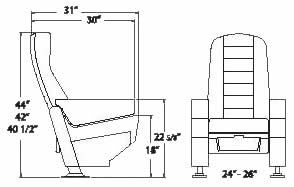 Back heights: 30", 31"
Chair widths: 24" - 26"
Chair widths are measured from the centerlines of the armrests.
Seat employs an automatic self-rising gravity lift mechanism for quiet, maintenance-free operation.
Fixed armrests.
Raw Material:
Cushions: Cold molded Polyurethane foam padding with ergonomic design.
Inner back: Ribbed injection-molded polypropylene plastic formed with compound curves for natural body support.
Outer back: Injection-molded high impact resistant, textured, linear polypropylene plastic.
Frame structure: Rectangular steel tube frame in various gauges to meet structural requirements and needs. Every part and every assembled piece has been stress-tested.
Plastic parts: Multi-ribbed high impact injection-molded polypropylene plastic.
Aisle standard covers: Rigid molded polyurethane with a decorative finish.
Metal for pedestals: 1" x 3" 14 Gauge
Shoe Plate: Gauge 11
Paint: Thermoplastic Powder coating, with an electrostatic process. Oven-baked at 200ºC.
Fabric: 100% Marquesa Lana (polyolefin) with fire retardant. Meets requirements for California Technical Bulletin 117, Section ECS-191-53. We can also use synthetic leather by request (high quality materials)
Mechanisms:
Swing or Rocker mechanism: Rubber operated mechanism with no springs. The tension of the back can be adjusted. For quiet and secure use and a long lasting life.
Automatic self-rising seat: Using a gravity lift mechanism for quiet.
Tests:
California TB-117
California TB-133 (optional)
ASTM F-851 (impact and static)
Advantages:
The mechanisms are totally safe and silent and are built for frequent and intense use.
The high quality plastic can be cleaned and maintained easily and economically.
The steel structure is solid, built with gauges capable of handling intense use.
The back pad is complete with an integrated lumbar and head support.
The outer back is concave and anatomic formed with multiple ribs.
The chair is an attractive love-seat style theatre chair with a comfortable ergonomic design.
New Auditorium and Theatre Seats
Preferred Seating is a full-service commercial seating company that serves clients across America. We offer high-quality, "Made in the U.S.A." seating and much more. Our design team can create a customized seating layout for your venue that addresses your unique requirements. We have expert craftsmen that can refurbish all kinds of used auditorium chairs. They can refinish wood or reupholster a seat. Our professional installers will travel throughout the United States.
Over the past two decades, we've learned which theater seating truly stands the test of time. We offer the latest in modern, ADA-compliant theatre seats and the best in used auditorium chairs.
Removable, Multipurpose Seating
We see an increasing number of projects featuring a combination of permanent and removable seating. In theatres, it is easy to reconfigure removable seating to accommodate ever-changing types of performances. Create a better experience for your ticket holders and maximize revenue at the same time. This multipurpose seating is popular in public buildings, universities, and houses of worship as well.
Pre-owned Seating Options
There are a number of important reasons to consider used chairs. For example, if you are responsible for the renovation of a 1920s-era cinema, refurbished, pre-owned seating may be the perfect solution to the need to match theater seating with vintage architecture. Also, it is possible to save as much as 40 percent when you choose used auditorium chairs over new. When used seats require refurbishing, our experienced, dedicated craftsmen can tackle almost any challenge. They can repair broken standards, refinish wood and apply a new powder coat finish to metal. Finally, they can reupholster a seat with a fabric of your choosing.
Reach Out to Us Today
It is truly exciting to imagine a civic center, theatre or movie theater with updated seating. Say goodbye to frustrating efforts to clean dingy upholstery that lacks the style it once had. An updated commercial seating solution will save you significant sums on cleaning and maintenance for years to come. Imagine the response of your patrons as they enjoy an improved experience. It is possible that updated seating will actually enhance attendance.
After more than two decades in the commercial seating business, we are ready to handle any seating project, whether it involves a brand-new performing arts center or a renovated 19th century opera house. Congregations with aging pews look to us for conversions to auditorium chairs.
Preferred Seating offers some of the most comfortable, durable and low-maintenance seating on the market. We have new and pre-owned chairs for any kind of venue. Take a look at our economical Classic or Concert seats, or consider our Symphony seating for a truly elegant look. At Preferred Seating, we can offer you high-quality chairs at great prices. Take full advantage of the services of our designers, installers and craftsmen. We look forward to discussing your commercial seating needs with you.