Puppets Past and Present
Puppet theater has a long and varied history as a form of entertainment that dates back as far as the fifth century BC and encompasses many different types of puppetry from various regions, some of which are still popular today.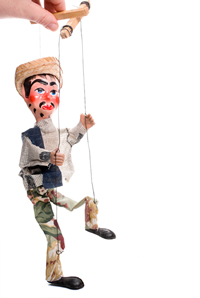 Marionettes, for example are string puppets that are suspended from strings attached to various parts of the body. Strings are usually attached to the head, back hands, and knees of the puppets. This intricate form of puppetry is known to have existed in Greece in the fifth century BC, and terra cotta puppet dolls from this era can be seen on display at the National Archaeological Museum in Athens.
A simpler style of puppet theatre involves the use of the hand puppet, which slides over the hand of the puppeteer, who uses his or her fingers to move the puppet's head and arms. A well known example of this type of puppetry is Punch and Judy, traditional characters in British puppet theatre.
Shadow puppets, a form of puppet theater that gained popularity in China during the Song Dynasty, are cut-out figures placed between a light source and a translucent screen. The cut-outs can either cast a solid image, or have varying amounts cut-out detail that will be reflected in the image visible on the screen.
Even today puppet theater is alive and well in the form of television shows and movies like Sesame Street or Labyrinth, both of which employ rod puppets created by The Jim Henson Company. Rod puppets are built with a head attached to a large central rod around which the body is built. Smaller rods are attached to the hands of the puppet as well as any other limbs. These rods are used to manipulate the puppet; the large central rod is turned from side to side to move the head, and the smaller rods are used to move the limbs to which they are attached.
Another example of the modern popularity of puppets is the comedic routines performed by Jeff Dunham and his collections of ventriloquist's dummies, which range in personality from grumpy Walter to Achmed the Undead Terrorist and the antics of Peanut. These ventriloquist's dummies are designed to distract the audience from the actions of the performer and can be controlled with only one hand.
Thanks to performances like these, puppets are still entertaining people millennia after their creation.
Puppetry Resources
Puppets and Theaters For Children
Center for Puppetry Arts, Workshops, Field Trips, Virtual Learning, Current Exhibitions
All About Shadow Puppetry and Theater
Museum that preserves and exhibits puppets from around the world