Selecting Your Church Pews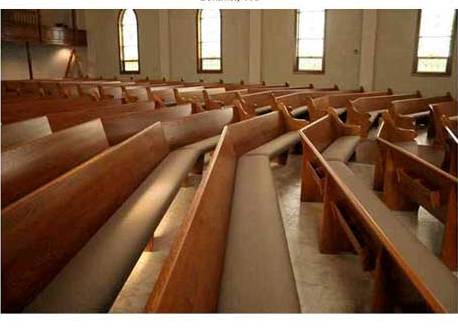 Plan Your Pew Spacing
In sectarian churches the pews should be spaced at least 36" apart, from one pew back to the next pew back. In liturgical churches, where the faithful kneel the spacing should be increased to greater than 36".
Our church seating provides more than comfort and convenience to the congregation. The style and quality of the pews enhances the beauty of your sanctuary.
Create Your Own Pew
Technically, a pew is made up of two ends, a pew body, its center supports, and in certain cases, divisions. The styling and quality of construction blend to make the finest church furniture. You are able to choose the styling of every part of the pew. You select the style, we supply the craftsmanship to produce quality church seating.
Pew Ends
Your choice of pew end design is unlimited. In our photo pages you will find our standard ends which include contemporary cantilever and traditional styles. You may also take advantage of our custom design and building service. We'll be happy to create pew ends from your design or architectural drawing or reproduce your current style of end.
Pew End #10
Pew End #11
Pew End #12
Pew End #14
Pew End #16
Pew End #17
Pew End #24
Pew End #28
Pew End #38
Pew End #44-A
Pew End #44-B
Pew End #44-C
Pew End #55
Pew End #39
Pew End #48
Pew End #50
Pew End #5
Pew End #46
Pew End #45
Other pew end styles available
Pew End Routs and Carvings
There are many pew end routs and carvings to choose from. Some of the favorites are shown below. We will even use your own logo or design to customize your pew end.
#44-A
#44-B
#44-C
#24
#55 Edge Vein Rout
#1 Waterfall Cap
#5 Waterfall Cap
Triple Routed Cross
Single Routed Cross
Single Routed Star
Budded Cross
Pew Bodies
You select a pew body to accommodate your church's architectural style. You may choose from upholstered seats and upholstered lumbar support backs, those with shaped out solid wood seats and solid wood backs, and those with upholstered seats and solid wood or plywood backs. The designs and dimensions of our pew bodies provide maximum comfort and practicality.
Solid Hardwood Body
Reproduction Pew End #1
Shown w/Pew End #12
Fully Upholstered Body
Shown w/Pew End #10