Theater Seating Selection
Theater Seating that says enjoy the show!
The comfort of well-designed theater seating is essential to the enjoyment of productions that often last several hours. With this in mind, we provide theater seats which are made to be durable and comfortable, utilizing the latest materials to enhance the patron's experience. Our high-quality theater seating is designed with gravity assisted spring mechanisms that retract the seat quietly, so as not to disturb other patrons. Preferred theater seats are virtually indestructible and are built to withstand years of use.
We also restore and renovate theater seating and offer used theater seating for sale at a lower price than new.
Related Products
Functionality & Comfort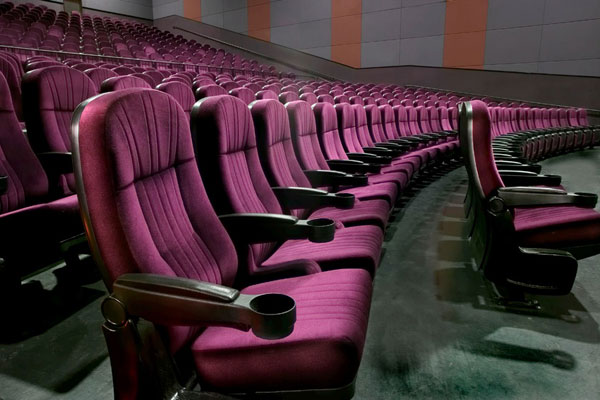 Theater seating can make or break your theater experience. Everyone wants to be very comfortable, but not fall asleep. Our theatre seats reflect an understanding of ergonomica by providing healthful support and fitting your body like a glove. Thanks to advances in foam materials and no break plastic, our theater seats contour to a person's body, distributing weight evenly. Our theater seating also has a holder for both soda and snacks.
Look to a leading American innovator in commercial auditorium seats, theater seats, and stadium seats -- Preferred Seating. We can customize, design, and install seating that will be both durable and reliable. We've introduced robotic mig welded steel standards on our Liberty Seats for consistent, long-lasting welds.
Auditorium Seats
Give your theater patrons seating that is truly ergonomic. A marriage of non-breakable plastic and modern foam materials result in seats that offer even weight distribution.
Perhaps you are responsible for a new performing arts center or auditorium. Our Symphony Seats offer a truly contemporary look with higher backs for full shoulder support. Whatever theater seating you select from us, customize it with fabrics and colors that compliment the dynamic architecture of your facility. Our engineers can design layouts to maximize the use of space. Finally, our professional installation will result in years of low-maintenance, reliable seating.

Theater Seating, Auditorium Seating, Used Theatre Chairs
Preferred Seating can address your needs whether your project involves a stadium, auditorium, performing arts center, church sanctuary, or any other facility that requires low maintenance, long-lasting commercial-grade seating. Let our experts help you to match new theater seating with the architectural style. Review our innovations in seating, whether it involve robotic welding, bleacher retrofits or hi-grade but portable multipurpose seating.
Preferred Seating offers it all. We'll handle your seating needs from selection and customization to layout to installation. Yes, we install seating across the U.S.

Whether your need for seating is old or new, indoors or outdoors, new install or retrofit, we at Preferred Seating can assist you. Benefit from the years of expertise gained designing and installing theater seating and used theatre seats across the United States.
Benefit also from the innovative ideas that the engineers at Preferred have incorporated into our commercial seating. For example, we've devised methods for lightweight removable seating and seats that rotate from back to front. We've also come up with portable seating options that preserve style and comfort. Multi-purpose theatre seats can allow you adapt your layout as different types of performances dictate. Certain events will allow increased seating, thereby increasing revenue.
Perhaps your city is building a new, ultramodern performing arts center designed by a famed architect. We can collaborate with you to carefully match the style, color and feel of the seating to the architectural design of the new facility. For example, our Symphony Seats offer a modern look coupled with high seat backs that provide full shoulder support. Upholstery choices range from textured, durable cloths to plush velvety fabrics.
Refurbished Seating, Used Theatre Seating
Whether you are thinking of utilizing your own used seating or that which we can offer, our craftsmen can give your final installation a 'like new' look. Perhaps you are renovating a century old opera house or a retro movie theater. You want to retain the style and quality of those original used theatre seats, but some have tears, big scratches, or parts are loose. Our craftsmen can fully strip the metal and apply a modern, tough polyester powder coat. They can strip the wood as well, make repairs and re-finish it. Finally, upholstery can either be repaired or completely replaced with elegant and/or stain resistant fabrics.
If you want the ultimate in high-end seating for your opera house, concert hall, or theatre, consider our Symphony Seats. High seat backs offer full shoulder support. The ultramodern design will compliment your 21st Century performing arts center.
In addition to the many styles of fixed theater and auditorium seats, Preferred also offers removable seating that is simultaneously ergonomic and economical. Make more money by adapting these nicely contoured seats to your different needs. We're an innovator in multi-purpose seating.
Stadium Seats
Our Liberty Seat line offers a choice of either 14 gauge steel or cast iron standards. Enjoy carefree function for years, backed up by our five year warranty. Seat lifts are super quiet thanks to steel shafts pivoting on 'no-maintenance' bearings. Metal standards are polyester powder coated. Customize your U.S.A. made stadium seating with a choice of 20, 21, or 22 inch seats and fabric inserts in varied styles and colors.
The line of Tuf Seats offer ergonomic contouring, bright colors, and UV resistant unbreakable plastic. We can install these seats on the floor or on risers. Or, we can use them to retrofit old, backless bleachers. Imagine the transformation! Your fans will love this new support for their backs. You can even offer these individual seats to season ticket holders as part of a fundraiser.
Used Theatre Chairs
Cinemas across the country are frequently closing or renovating. Benefit from this transformation in the movie industry with our wide selection of used theatre chairs. Whether it be for artistic or budgetary reasons or both, used seating can meet the needs of retro movie houses to renovated opera houses.
Should your own used theater seats that need renovation or repair, Preferred Seating offers true expertise. We strip the theater seat, powder coat metal standards, refinish wood and replace upholstery.