Preferred Used Theater Seating
More seats are available than shown - Call 317-782-4555
50 seat minimum. Outstanding values. Used theater seating overstock from cinemas. You, the buyer, have the dollar value. Save 30% to 50% on the greatest values ever offered in used theater seating and auditorium seats. Some seating is only slightly worn. Installation available anywhere in the United States.
Used theater seating makes it possible to furnish a large hall, theater or a performing arts center on a small budget. We can help with the selection and layout of your used theater seating.
We can also assist you with options in used seating that will fit your needs and budget. This gives you, the customer, the chance to get slightly quality used theater seating for less cost.
A great value, budget pricing on used lecture room seating with tablet arms. These outstanding seats will fit perfectly in any upscale setting. Please call toll free 317-782-4555 for a quote
Advancements in upholstery, chair design and construction in recent decades have made used theater seating popular among venue owners. Many owners realize that pre-owned seats and chairs are investments that yield quick returns. The average auditorium with 500 seats can keep greater portions of ticket and concession sales by purchasing used theater seating. The low costs of used chairs obscure other reasons for purchasing these products. Public theaters, art house cinemas and dance studios have eclectic audiences that appreciate interior design. Venue owners can please the unique tastes and desires of frequent visitors by finding used chairs with antique designs.
Examine the Benefits of Used Theater Seating
One of the anchors of downtown revitalization in American cities is the retro movie house. Many cities offer low rent and incentives to owners who open up shop in downtown areas. These venues can purchase restored chairs to bring visitors back to the city's past without the use of a time machine. A movie theater that runs classic films can use usher uniforms, cheap concessions and interior design elements to create the retro effect.
Every business with an auditorium is concerned about the longevity of theater seating. Colleges and companies that use auditoriums for daily events cannot afford to have chairs break, squeak and wear out quickly. The fact that pre-owned theater chairs are available for sale shows the quality craftsmanship employed by past designers.
Preferred Seating is an Indianapolis-based provider of new and used theater seating. Venue owners and operators can purchase pre-owned chairs that match their design aesthetic by calling toll free at 317-782-4555.
Additional Used Seating Available
Related Products
Blue Citations
Convention Seat
Heywood Wakefield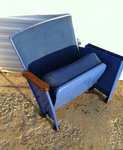 Navy Blue High Back
Hussey Mauve Rockers