Wood Reveal Theatre Seating
Performing arts theatre seating installed at Erskine College, are constructed of natural woods, elegant fabrics and thick cushions; this early 1900 period design features a refined and gradual formed wood reveal. At Preferred Seating, we not only design and craft fine theater seats, but we can customize them to your precise needs, whether it's a large or intimate theater. We've been in the seating industry for more than 20 years, and want to be your preferred supplier.
Features Include:
100% MADE IN THE U.S.A.
Ergonomic Design for Comfort and state of the art styling
Strength and durability warranted to out perform other seating
Traditional and contemporary profiles with a variety of style and color selection
Steel standards or cast iron standards
Quiet, Carefree, Consistent gentle lift seats
Contoured cold molded foam seats and backs
Factory employee installers
Options:
Upholstered, Laminate, or Solid Oak end panels
Upholstered, Laminate or Wood Covered Backs
Solid Wood Armrests
Book, Card, Pencil, Cupholders
Aisle Lights
Number/Letter Plates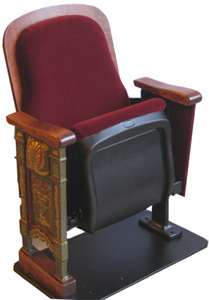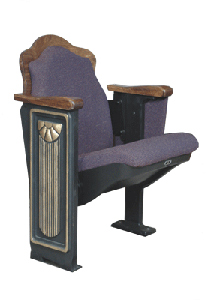 1. TYPE
Preferred Seating designs and manufactures the most attractive and functional auditorium seating on the market today…and at competitive pricing. Now we have it all in the seating industry: ergonomic design for comfort and state of the art styling; strength and durability warranted to out perform other seating; traditional and contemporary profiles with a variety of style and color selections.
2. SELF-LIFTING SEAT
The seat self lifts automatically to the ¾ - fold position when unoccupied and rotates on two enclosed high strength steel hinge rods. The seat utilizes a torsion spring system for quiet operation. The seat is available in 21" (533mm) and 22" (559mm) widths, center armrest to center armrest. Seat will pass a 800 pound static test load at edge of seat. Seat is formed to fit the contour of the body when in the sitting position. The multiple curves give the spectator long time support. The waterfall at the front of the cushion reduces pressure points. The seat bottom and seat-lifting mechanism is totally enclosed by an injection molded polypropylene plastic seat pan. The seat pan is designed to complement the contour of the back with matching colors and texture.
Options: Upholstered, wood and or plastic laminate seat inserts.
3. UPHOLSTERED, WOOD OR PLASTIC LAMINATE CHAIR BACKS.
The outer back consists of wood, plastic laminate or fabric covered. The fabric covered outer back consists of wood. The back has an overall back height of 32" – 35". The upholstered inner back panel consists of a polyurethane pad 2" thick and covered with the specified fabric. The molded pad is securely attached to the inner wood panel with an adhesive and stapled all around the perimeter. The back goes 4" below the back of seat cushion to protect the pad from any rear damage. The back is available in 21" (533mm) and 22" (559mm) widths center armrest to center armrest.
4. STANDARDS: STEEL TUBE STANCHIONS
Steel standards shall be steel tube, fabricated of 14 gauge, meg welded tubular steel. Standards are fixed to the floor with 2 bolts.
Armrest is securely adjoined to top of column by threaded steel dovetail bolt attachment.
A formed 10 gauge, 1/8" thick, steel foot shall be welded to the bottom of the steel tube.
All end standards have a decorative end panel, fabric covered, plastic laminate, wood or cast iron.
5. ARMRESTS
The armrest shall be high impact injection molded polypropylene plastic to compliment the seat design. Optional plastic laminate and or wood armrests are available with your choice of stain or finish.
6. MATERIAL SPECIFICATIONS:
Plastic: Plastic shall be high density injection molded linear polypropylene plastic with ultra-violet light inhibitors to reduce fading and no static components.
Padding: BASF chemical company tested resin-585 grams, 255 isocyanate foam meets the flammability requirements of California Bulletin #117. Molded resilient polyurethane foam padding material. Foam is flame retardant.
Metal: Steel 14 gauge and or cast iron.
7: OPTIONS:
Upholstered, Wood or Laminate Outer backs
Upholstered seat pan inserts
Upholstered, Laminate, or Solid Oak end panels
Solid wood armrests
Armless intermediate standards
Book, Card, Pencil, Cup Holders
Drink Cup Holders
Aisle Lights
Number/Letter plates
Higher backs for balcony installations