Phoenix Theater Seating
Hover over each image to enlarge
Back Styles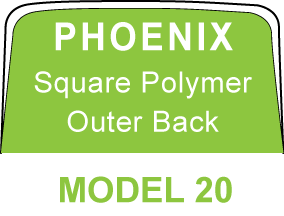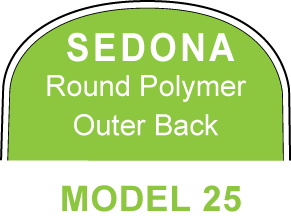 Stylish & Comfortable — Great Value & Long Life — Customizable
Safety & Comfort:
Serpentine spring or renewable plywood inner comfort support system - field reconfigurable
Ductile iron hinges with extended length 1/8" (3mm) U-Channel hinge supports
Quad-Bearing permanently lubricated hinge alignment systems with dual lift springs
Seat Lift System: 3/4-Fold "Space Saver" or 5/8-Fold "Easy Sit" Systems with Push to Full Fold for easy row passage - field reconfigurable.
Support Systems:
Welded Steel & Ductile Iron Standards
Floor Mount & Riser Mount Standards
Beam Mount Systems
Fold Forward Telescopic Seating
Nose Mount Telescopic Seating
Style & Continuity in your Venue:
Low & High Back Chairs - Styling Continuity
Plush & Value-Minded Club and Suite Seating Solutions
Durable & Comfortable General Seating
Fixed and Telescopic Seating Solutions
Comfort & Upholstery Solutions:
2" & 3" back foam solutions
Dual-Density & Lumbar foam solutions
33", 35" and 37" back height solutions
Back upholstery styling solutions include fabric tucks & pleats, embroidered logos, etc.
Wood veneer outer back solutions available in Phoenix Elite and Sedona Elite chairs
We welcome your interest in the complete commercial seating services offered by Preferred Seating. Look to us for the design, layout, and installation of everything from theatre chairs to arena seats. We offer both new and used options.
Perhaps you are an investor with a wonderful dream.
Your goal is to establish a bonafide period movie theater in an historic district just set up in the town in which you grew up. You may be considering either replacing or refurbishing the current theater seating. Either way, commercial seating experts can help you to navigate through the maze of theatre seating and auditorium seating choices. The chosen theater seating design may carry out the look and feel of the architecture from the golden age of theatres. Consultants can help you to further customize the seating design until it blends beautifully with the qualities of your existing venue.
Used Seats
Theater seating that has actually been used before may, in some cases, promise the perfect combination of lower expense and aesthetic feel. Commercial seating businesses working on numerous projects across the country will often end up with good inventories of such used theatre seating. These previously used seats will often combine quality construction with very little wear. Still, savings of up to 40 percent are often available when one purchases pre-owned theatre seats. If such used chairs require it, expert craftsmen can perform repairs as needed.
Seat Renovation
Perhaps the seats currently in place at your renovation are scratched and worn on the surface, but they are still fundamentally sound. Imagine having craftspeople travel right to your site to bring those chairs up-to-date. The steel standards upon which those seats rest can be fully stripped. Then, a polyester powder coat can be applied that will be highly durable and resistant to damage. Damaged finishes on beautiful hardwoods can also be taken off and replaced with modern coatings that will truly accentuate the wood grain. Old, worn cushions can be swapped out for new ones made of fire-retardant, high-quality foams. Cloth seat coverings can be either restored or changed over to contemporary fabrics. Wide-ranging theater seating design choices are available nowadays when it comes to both style and cost. If your goal is to both honor the storied history of your venue and to upgrade to materials with modern spill resistance, this goal can be accomplished.
Whatever your selections, the final theater seats will accommodate the next generation of patrons to be tantalized by the acting prowess of a Myrna Loy or a John Barrymore. Experienced consultants are able to suggest which materials might wear well over the long-term. Such experts are able to recommend which chairs are likely to offer the greatest longevity, affording you real cost savings over time.
Options
Cup-holders are an option that can be chosen to add functionality to your theater seats. Rockers are another option available that might be of interest for your auditorium seating. A knowledgeable consultant can suggest which spring-operated components will hold up well over the years to come. Reviewing options with internet-based commercial seating businesses will assist you in ultimately making selections that promise to offer years of quiet, maintenance-free service.
Style
Your new construction or renovation may be vintage, traditional, or very contemporary. Whatever the style of your venue, commercial seating manufacturers have weighed in on similar projects. Establish communication with a seating distributor in proximity to your location to go over the vital specifics of your current effort. This is an excellent way to see that your dreams for a fantastic venue are realized.